Chtěl bych se s vámi podělit o příběh nejrozšířenější značky skotské whisky na světě (ve více než 200 zemích). Vyprávěl mi ho jeden strategists z německé agentury thjnk a jak už z názvu článku napovídá, tak se jedná o Johnnieho Walkera.
V roce 1999, už tři roky po sobě, docházelo k poklesu prodeje (o 14 procent) a značka, která je pyšná na svou historii, začala mít obavy o svou budoucnost. Několik agentur bylo pozváno, aby dostali následující zadání:
Je třeba okamžitě zvrátit pokles prodeje a přijít s globální komunikační strategií, která přinese trvalý růst na všech trzích.
Jedna z oslovených agentur byla BBH. Ta si provedla výzkum a zjistila, že v jednotlivých trzích mají řadu nesouvisejících kampaní a Johnnie Walker se stal jen různorodou kolekcí výrobků. Je třeba značku změnit v jednotný a silný brand. Johnnie Walker musí být navíc nejen značkou whisky, ale i globální ikonou.
V BBH začali studovat úspěšné přední značky a zjistili, že ty pro zákazníky znamenají víc než jen dodavatele výrobků nebo služeb. Mají v sobě i lidské hodnoty, které vytvářejí hluboké spojení se spotřebiteli a fungují napříč širokou škálu trhů.
Co je tedy nejvýraznějším mužským úspěchem dvacátého století? Pokrok. Duch pokroku byl vždycky v centru značky Johnnie Walker. Ale to bohužel nebylo vidět v logu, které tenkrát vypadalo takhle.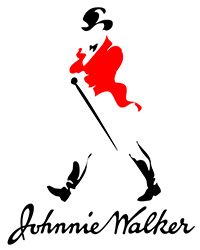 Zástupci reklamní agentury přišli na prezentaci pouze s původní podobou loga, které před zraky klienta horizontálně otočili a řekli:
Striding man [tak se říká postavě na labelu značky] by měl vyjádřit touhu po pokroku a nabádat spotřebitele, aby také šli vstříc budoucnosti. Proto jsme otočili vaše logo, aby šel správným směrem. Zleva doprava a naznačil tak směr dopředu. Z toho také vzešel náš nový slogan: "Keep walking".
Klient si to zamiloval a kampaň byl spuštěna ve více než 120 zemích. V průběhu osmi let bylo vytvořeno přes 50 televizních spotů, 150 printů, rádiových reklam, webových stránek, nechyběl ani sponzoring a nadační fond.
Prodej Johnnieho Walkera se rychle obrátil k lepšímu a stále roste. Objem prodeje se zvýšil z 10,2 milionů kusů (rok 1999) na 15,1 milionů (rok 2007). Ale co je nejdůležitější – vznikla pravá kulturní ikona.
To je příběh o tom, jak někdy stačí málo k tomu, abyste vyjádřili podstatu své značky (a ten člověk, který nám vyprávěl tento příběh, chtěl taky sdělit, že je dobré mít prezentaci co nejjednodušší).