Art. Lebedev Studio je společnost založená v roce 1995 a v současnosti s více než 170ti pracovníky největší designová společnost v Rusku se základnou v Moskvě. Jejich zaměření je průmyslový design, grafický design, web design aj. Jejich výrobky jsou překrásné, komfortní a jednoduše řešené.
Jejich nezjnámějším výrobkem je nejspíše Optimus keyboard. Klávesnice, jejichž tlačítka jsou tvořená z OLED (Organic Light-Emitting Diode) displeyem. A o co, že to jde? Představte si klávesnici, která mění popisky podle právě spuštěného programu, která má podsvícené klávesy a je tedy možné na ní bez problémů pracovat i ve tmě a ke všemu vypadá po designové stránce úchvatně. Přesně s tímto řešením přišel Artemy Lebedev a nechal si svůj nápad patentovat.
Pro tuto klávesnici najdou využití úplně všichni. Stačí psát ve Wordu a už se to projeví. Od ppčátku máte na klávesnici malá písmena. Po stisknutí Caps Lock se všechny zvětší. Když si budete chtít prohodit klavesnici na anglickou (nebo ruskou), písmenka se prohodí (změní) podle nastavení. Učím se ve střihovém programu AVID a pro něj se dělají specializované klávesnice. Myslím, že tohle bude výhodnější koupě. 🙂 Stačí zapnout program a klávesnice se kompletně přemění do barevného layoutu AVIDu.
Na své si příjdou i hráči počítačových her jako jsou např Quake.
A co by to bylo za klávesnici, která by nezvládla tlačítka na Photoshop.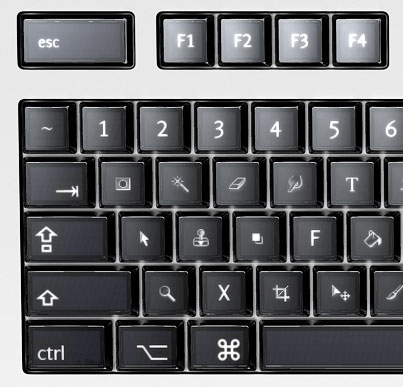 A cena? Měla by se pohybovat v přepočtu kolem 8600 Kč. A datum vydání? Všude se píše rok 2006. Snad to do Vánoc stihnou.