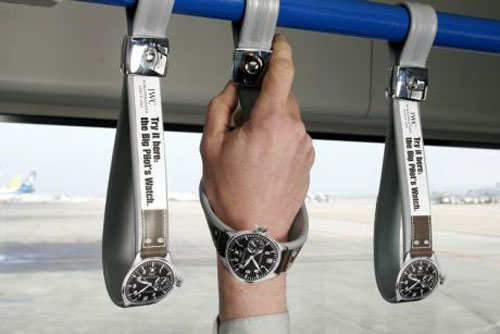 Reklama vytvořená firmou Jung von Matt/Alster pro hodinářství IWC. Autobusová madla byla zkrášlena obrázkem Hodinky Velkého Pilota od IWC a vložena do autobusů jezdících poblíž letiště na zkoušku, zda si je někdo koupí v Německém Berlíně.
 
 
Nátisk šálku Folger coffee byl umístěn na poklop ve městě New York v USA. ProdyÅ¡ný otvor umožÅ?oval, aby výpary bez problému vycházely ven. Znění kolem šálku hlásá 'Haló, Město které nikdy nespí. Vzbuď se." od Folgers.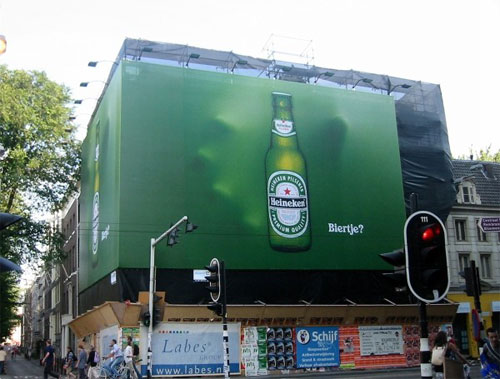 Netradiční nápad na velkém billboardu v Amsterdamu, Holandsko. Budete chtít skutečně jen 'Heineken'.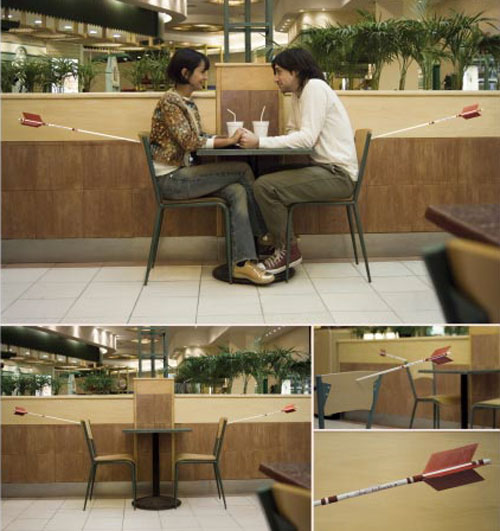 Tohle je výborná reklamní kampaÅ? v jednom obchodním centru v Buenos Aires, Argentína na den sv. Valentýna. Jednoduchý nápad udělá z okolí romantické prostředí.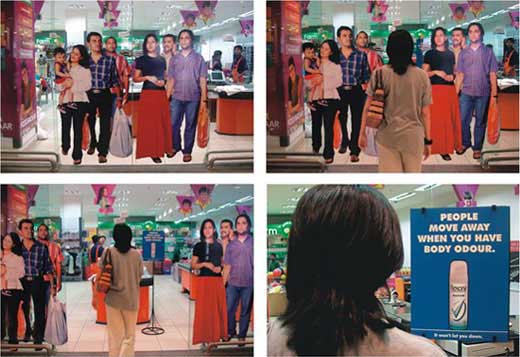 Reklamní nálepka s lidmi životní velikosti byla umístěna na samootvírací dveře v obchodě v Mumbai, India. Když někdo procházel dveřmi. Å li stranou jak dveře, tak i lidé na nich. Procházející člověk po vstupu objeví vkaz 'Lidé se vzdalují pokud cítí tělesný pach'.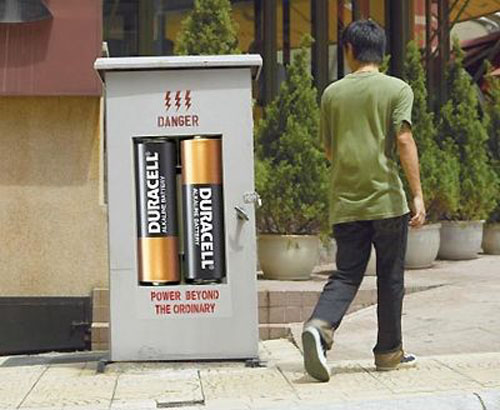 Nálepka umístěná na skříÅ? vysokého napětí zobrazující použití baterií Duracell. Vynikající reklama k nalezení v Malaysii.
 
 
Použití prostoru k propagaci Eatalica burger. Cedule 'Pozor mokrá podlaha' byla umístěna před plakát zobrazující Eatalica burger. Takže pozor aÅ¥ moc neslintáte na podlahu. Eatalica je obchod s Italsko-americkým jídlem v Chennai, India.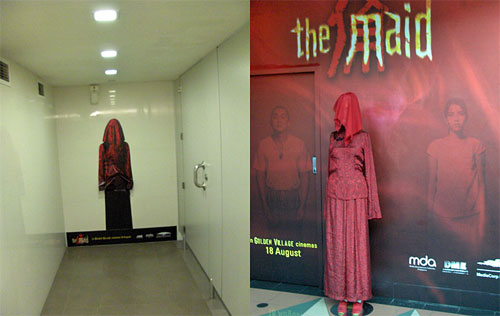 V Singapuru vedle záchodů za rohem byla umístěna nálepka v životní velikosti na horor 'The Maid'. Přátelská reklama na to, aby jste si nadělali do trenek.
 
 
Velké zrcadlo bylo postavené a přístupné pro kolemjdoucí v obchodním domě (Tokyo, Japonsko), aby se mohli podívat, jak jim sluší oblečení.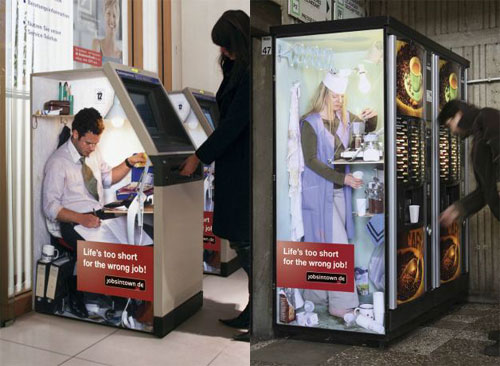 Reklama v Německém Berlíně na společnost nabízející práci. Zobrazuje lidi pracující v automatech a se vzkazem 'Život je příliÅ¡ krátký na Å¡patnou práci'.
 
 
Nálepka umístěná ve vybraných garážích a autoopravnách v Malaysii, kde je produkt prodáván. Zpráva zní, že světla M-Tech Plasma HID jsou o 300% jasnější než bězná přední světla. Nálepka s efektem spáleného místa z předních světel zanechává dojem skutečně spáleného místa.
 
 
Tento kontroverzní nápad byl použit v Budai Sandeep Fernandesem and Husen Baba Khanem na propagaci můžského deodorantu, Axe. Podložku pod myš potřebuje každý muž.
 
 
Tuto reklamu jste mohli najít ve Vancouveru během Národního nekuřáckého týdne. Auto bylo umístěno před Uměleckou galerií a zpráva zněla 'Počet mrtvých způsobené dopravní nehodou: 370, Počet mrtvých způsobené kouřením: 6,027, PřestaÅ?te, než to zabije vás.'
 
 
Obrázek životní velikosti byl umístěn na skleněné dveře v obchodech, letištích v Jižní Africe a je reklamou na čističe skla a oken I.C.U. Výraz na obličeji je báječný.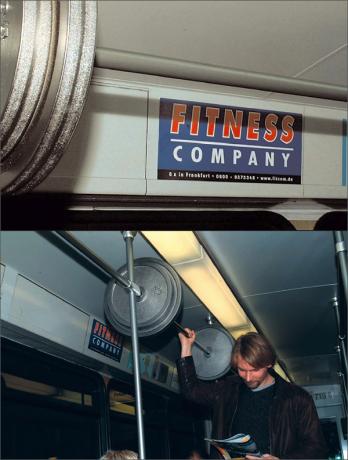 Další kreativní nápad na Fitness společnost. Těžké závaží bylo umístěno do různých vagónů v New Yorku, které způsobovalo iluzi, že člověk drží bezpečně celou váhu.
 
 
Velice ekonomicky využita reklama v Hong Kong na školu jógy. Zobrazuje to obratnost profesionála v józe v ohybací části brčka. Po této reklamní senzaci byl velice velký nárust pohledávek a zápisů na jógu.
 
 
Toto je kreativní reklama na Mini Cooper umístěna na vstup do metra ve Švýcarském Curychu. Dává to dojem že Mini Cooper má velký prostor.
Zdroj: Hemmy