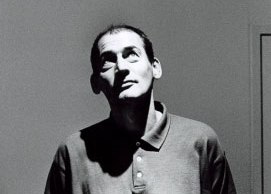 Rem Koolhaas prožil dětství v Indonésii a nějakou dobu se živil jako redaktor a autor scénářů. Jak léta plynula, dotáhl to na jednoho z nejuznávanějších architektů současnosti. A to s tímto oborem po studiích začínal jako teoretik. V té době napsal knihu Třeštící New York, která je dodnes jednou ze základních příruček oboru. Mimo jiné se v ní vyznal z obdivu k nekontrolovanému rozrůstání Manhattanu. A přitom nesnáší mrakodrapy. Každopádně disharmonie protichůdných elementů se stala později jedním z poznávacích znamení jeho staveb. Dnes je spolu se svým studiem OMA držitelem celé řady ocenění včetně Pritzkerovy ceny, což je u architektů jakási obdoba Nobelovky. Po celé řadě slavných projektů, jako jsou budova Kunsthall v Rotterdamu (1992), Grand Palais ve francouzském Lille, nizozemská ambasáda v Berlíně, rozšíření parlamentu v Haagu nebo knihovna v Seattlu, přesunul svou pozornost na Čínu.
Místo: Peking

Otevření: 2008

Před Olympiádou v Pekingu probíhá v tomto městě pravý architektonický šrumec. Koolhaas u toho se svým studiem samozřejmě nemůže chybět. V roce 2008 bude otevřena nová dominanta – budova vedení čínské Ústřední televize. Její užitná plocha přesáhne půl milionu čtverečních metrů a má vypadat jako mrakodrap, který se chystá k saltu. Na stavbu budovy CCTV – Ústřední televize – dostal od čínské vlády 750 milionů dolarů. Stavba je vysoká 230 metrů, přičemž horní část budovy tvoří 18 podlaží. K projektu patří i sousední budova, v níž bude umístěno kulturní středisko a hotel.
Místo: Porto

Otevření: duben 2005

Mnohými je tento koncertní sál považován za nejlepší dílo Koolhaase a studia OMA. Rozhodl se zrušit elitářství, osamocenost a výlučnost takového typu budovy a propojit dění uvnitř s okolním městem. Prosklené plochy tak rámují pozadí jeviště a dvou hlavních hledišť. V hlavním hledišti je 1300 sedadel, v menším 350. Pokud někdy do Porta zavítáte, v budově najdete také osm zkušeben, nahrávací studia, obchod, učebny, VIP pokoje, restauraci, terasu a parkoviště.
Místo: Seattle

Otevření: 2004

Projektu předcházelo studium nejslavnějších knihoven světa. Se spoluautorem Joshuou Ramusem se shodli na tom, že musí vyhovovat i požadavkům budoucích technologii a být nejen knihovnou, ale i prostorem pro pořádání kulturních akcí a místem k setkávání. Jednotlivá patra – platformy – jsou umístěny zcela nepravidelně. Samotná knihovna vypadá jako místo k procházce mezi oblíbenými knihami. Celá budova je pak překryta sklem a ocelovými mřížkami. "Je to budova, která v sobě spojuje prvky stability i nestabilnosti, věci předvídatelné i zcela netušené," řekl Koolhaas.