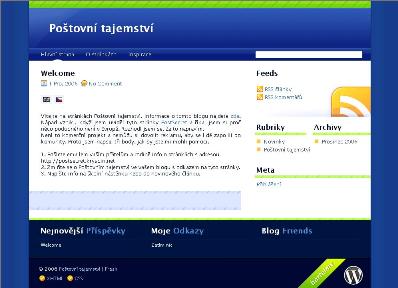 Již dlouho znám stránky postsecret blog a patří mezi mé oblíbené. Jenže poslední dobou jsem si říkal, proč něco podobného v České republice bo dokonce v Evropě. Takže jsem se rozhodl to napravit a na své další subdoméně jsem vytvořil evropské poštovní tajemství. 
 
A k čemu že to vlastně je? Je to umělecký projekt, kde se anonymní přispěvovatelé stávají umělci. Z korespondenčního lístku, pohlednice nebo i z fotografie se stává jejich "malířské" plátno. Sdělí své tajemství o kterém nikdo neví a poÅ¡lou na mojí adresu (více na stránkách PoÅ¡tovní tajemství).
 
Tajemstvím může být lítost, naděje, nespatřená laskavost, sny a fantazie, víra, obava, zrada, erotická touha, pocit, přiznání, nebo příběh z dětství. Odhalte cokoli – pokud je to pravda a ještě jste se o tom s nikým nepodělili.
 
Jenže každý projekt potřebuje svou reklamu, aby se o něm dozvědělo široké spektrum lidí. Tímto se na Vás, čtenáře tohoto blogu, obracím s prosbou. Zda by jste mi nepomohli. Jsou tu tři body, jak mi helfnout.
 
1. Pošlete emailem vašim přátelům a rodině info o stránkách s adresou http://pos­tsecret.kryspin­.net
2. ZmiÅ?te se o PoÅ¡tovním tajemství ve vaÅ¡em blogu s odkazem na stránky.
3. Napište info na školní nástěnku, do novinového článku nebo jinak, pokud máte tu možnost.
 
Děkuji