Přesněji řečeno je to druhý sníh co v této zimě vidím, ale poprvé to bylo v Praze někdy před Vánoci (nebo po Vánocích?) a ten zmizel během dne. Ani jsem nevyšel ven, abych se ho dotknul a chytil vločku na jazyk. Ale od včerejšího dopoledne, když jsem vyšel od zkoušky ze školy, tak jsem upadl do tranzu. Sníh padal a neměl v plánu se roztát. Když jsem byl na intru, všichni chtěli, abych šel s nima ven si zakoulovat.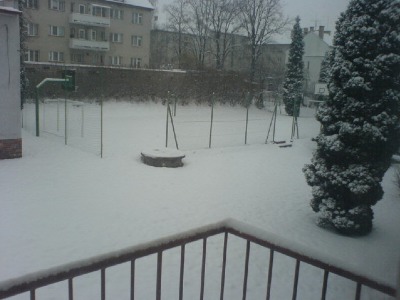 Fotka z dnešního rána pořízená mým mobilem z mého pokoje
JUPÍÍÍÍÍ, vrátil jsem se do dětských let. Tolik smíchu a sněhu jsem dlouho nezažil. Ale vidím to tak, že příští týden budu ležet v posteli s horečkama. Ale co sníh tu není věčně. Jen se bojím, že ve čtvrtek nedorazím z Písku do Prahy a budu odříznut od zbytku světa. Ke všemu točím v sobotu dokument a to mě štve, jelikož sníh ubere na kvalitě obrazu.
A jak je to se sněhem u Vás?