Podle komentářů u článku World Press Photo 2006 je jasné, že cenu za Portrét si zaslouží fotografka Nina Bermanová. Šokující svatební snímek, za kterým se schovává těžko uvěřitelný snímek.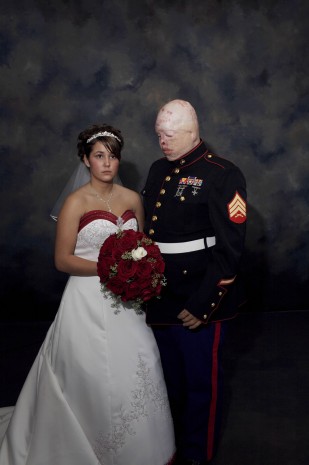 Mnoho lidí se snaží dívat se jinam, jen ne na tuto fotografii. Není to tak snadné, ale vězte, že oba si museli vytrpět o dost horší okamžiky.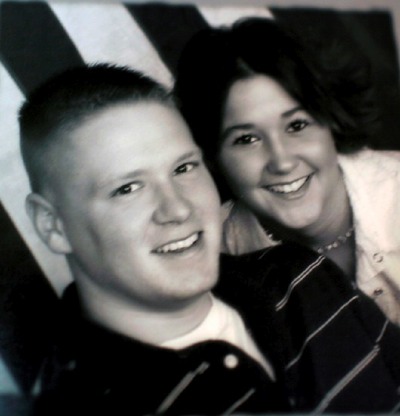 Než narukoval do armády, pracoval Tyler v osmnácti jako automechanik do servisu, který vlastnil otec jeho pozdější manželky Renee. A v práci ji také poznal, bylo jí patnáct a od té doby spolu začali chodit. Vztah přetrval i ve chvíli, kdy byl Tyler Ziegel nasazen v Iráku.
V Iráku byl už pět měsíců a blížily se Vánoce roku 2004. Byl na své druhé misi a vezl se v americkém konvoji. Náhle hned vedle jeho vozu explodovala nálož a on to odnesl ze všech nejvíc. Byl při vědomí a cítil, jak mu hoří uniforma a řval bolestí. Když z něj strhli šaty, naložili ho do helikoptéry a přikryli ho, poté omdlel. Doktoři v Texaské nemocnici léčili vážné popáleniny, z jedné Ziegelovy paže zůstal pahýl, na druhé ruce zbyly jen dva prsty, k nimž mu později transplantovali palec z nohy. Také přišel o část lebky, kterou nahradil plast. Uši mu shořely, na jedno oko nevidí, do mozku se mu zaryl šrapnel. Neztratil smysl pro humor, který na něm Renee miluje. Podstoupil přes padesát různých operací, díky kterým může třeba chodit nebo řídit auto.

Po celou dobu stála při něm jeho snoubenka u lůžka celá vyděšená a zdrcená. Jenže jeho Renee to nevzdala a nechtěla se ho vzdát. Měsíce čekala na první Tylerova slova. Před dvěma lety na svatého Valentýna mu vytáhli z krku trubici, díky níž mohl přijímat potravu. Vzápětí z jeho úst vyÅ¡lo: "BudeÅ¡ mou vyvolenou?"
Renee řekla své "Ano" a v městečku Metamora ve státě Illinois se vzali. Ona v překrásných svatebních Å¡atech a on ve své mariÅ?ácké uniformě se vÅ¡emi medailemi. Plánují stavbu domku a také rodičovství. A žijí spolu Å¡tastně…
Více fotek naleznete na stránkách Redux Pictures