Blummy patří mezi sociální software. Je to plugin do internetového prohlížeče, díky kterému můžete mít vaše záložky (bookmarks) pod jednou ikonou a tím si zpřehlednit a hlavně zpříjemnit vaše brouzdání po internetu. Vše je dělané v ajaxovém prostředí, takže jednoduše upravitelné potřebám uživatele. Blummy už obsahuje předefinované populární záložky jako jsou del.icio.us, google page rank, blogmarks, whois, Alexa, google translate a další. Co dělá blummy ještě lepším je možnost si vytvořit vlastní "blummložky" (záložky). Stačí na to jednoduchý skript, který se používá na ostatních stránkách k různému využití.
Stránky jsou sice anglicky, ale použití je intuitivní a jednoduché k použití. Nebudete mít žádný problém s registrací, konfigurací a s implementací. Funguje bez problémově na všech internetových prohlížečích a operačních systémech. Tenhle projekt je zatím velice mladý, ale má před sebou velkou budoucnost.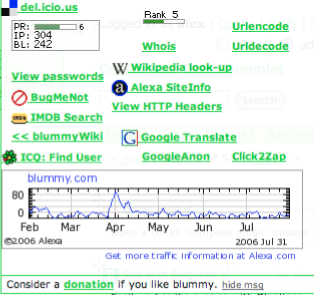 Takhle může vypadat jedna z možností použití Blummy.