Cenzura je kontrola a omezování sdělování informací – ať už předávaných mluveným slovem, tiskem nebo dalšími formami vyjadřování. Bývá zřizována státem, náboženskou organizací, armádou, vedením firmy apod. Slouží pro udržení ideologického monopolu, uchování státního, firemního či vojenského tajemství nebo uchování hlásaných morálních principů.
Existuje mnoho druhů cenzury a jedna z nich je zakázaná reklama. Nabízím vám několik billboardů, které byli v minulém desetiletí zakázány.
Žena na kříži (zákaz v orce 1995)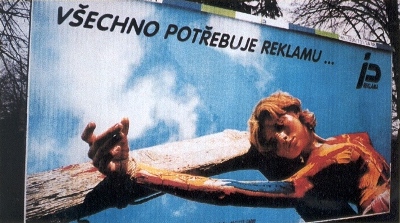 Na světovém kongresu reklamy vzbudil tento billboard velký rozruch. Žena s tělem pomalovaným pouze barvami, navíc přivázaná ke kříži? V Evropě devadesátých let? Billboard s nápisem "VÅ¡echno potřebuje reklamu", který upozorÅ?oval na změnu adresy a názvu česko-budějovické billboardové firmy Interplakát na IP Reklama, podle Rady uráží estetické a náboženské cítění Čechů.
Pij Merito (zákaz v roce 1996)
Podle ředitele Rady vedly tuto instituci k zákazu billboardu společnosti Merito na stejnojmenný nápoj nikoliv etické důvody, nýbrž estetické. Na Městském úřadu v Blansku (právě ten si na billboard stěžoval) zřejmě mají něco proti holým mužským zadkům. Chtělo by to trochu pochopení pro ty, kteří víc než holý zadek nemají! Jenže copak Blansko, tam se asi žije!
Váckavka a Dášenka (zákaz v roce 1997)
Žaloba, kterou podal bývalý prezidentský pár na obuvnickou firmu Ravelli a agenturu Mars, argumentovala, že manželé Havlovi byli bez svého souhlasu zneužiti v reklamě a spojeni se sloganem "Fuck the world". Na billboardu sice nebyla jejich fotografie, nýbrž foxteriér olizující Havlovu bustu, ale přesto jim soud dal za pravdu. U nás jde o první a jediný případ tohoto druhu.
Ostře sledovaná kampaÅ? (zákaz v roce 1997)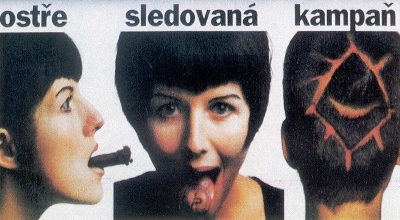 Jako by firmě IP Reklama nestačilo prvenství v zákazu billboardů. O dva roky později si vykoledovali další pokárání. "Ostře sledovaná kampaÅ?" se třemi hlavami dívky s podezřelými nákresy byla stažena, protože reklama byla samoúčelně provokativní a zneužívala sexuální symboliku.
Papež (zákaz v roce 1997)
Slogan "Když chceÅ¡ víc, než můžeÅ¡" vystihuje v tomto případě nejen reklamu na energitický nápoj Erektus, ale i zadavatele – firmu Pinelli. Ačkoliv nepoužila fotografii papeže, ale jeho dvojníka. Rada, zaplavena několika sty stížností dotčených věřících, billboard doporučila stáhnout. No, není divu, žena je přece ďáblovo stvoření, jehož úkolem není nic jiného než vzbuzovat hříšné myÅ¡lenky, před nimiž není uchráněn – dle zákazu soudě – ani sám papež. Když se vác něco nedotýká, nemůže vás to přece urazit.
Josef Lux (zákaz v roce 1997)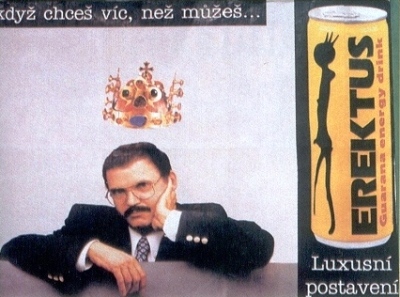 Ve většině států se veřejné osobnosti mohou objevit pouze v reklamě na média, ne na produkty. U nás nelze fotografie veřejných autorit použít ani s jejich souhlasem. A nepomohou ani (sebedokonalejší) dvojníci. Už když v roce 1994 firma Samsung děkovala Václavu Klausovi za návštěvu ve svém sídle v Jižní Koreji, nebyl tehdejší premiér nijak nadšen. S podobnou reklamou měla svého času problémy rozhlasová stanice Alfa, která kromě Klause použila hlasy Václava Hlavla a Johna Majora.
Jsme s tebou, Bille
Tak si to představte: když po skandálu s billboardy s dvojníky papeže a Luxe v roce 1997 přiÅ¡la firma Pinelli o něco později s dalším "pokračováním" kampaně na erektus, vÅ¡ichni byli nadÅ¡eni, jak se billboard s odkazem na Clintonovou sexuální aféru s Monicou Lewinskou vtipný! Přesto si můžete vÅ¡imnout, že Pinneli tentokrát raději nechala Clintonova dvojníka spát. Jak, se billboard líbil Clintonovi, nevíme, zato je známo, že překvapivě zhruba třiceti procentům se "líbí reklama se sexuálními motivy, jedná-li se o výrobek, k němuž to patří."
Zdrojem se stal bývalý časopis Quo. Úvodní komentář je z Wikipedie.