Jako by mi nestačila jedna reklama s pářícími se králíky, kterou jsem vytvořil komplet minulý týden. Po týdnu mě zase chytla můza ve dvě v noci, když jsem nemohl usnout a napadl mě geniální a jednoduchý nápad, který se točí kolem názvu mBank. Pořadatele soutěže které se účastním.
Nápad
Když člověk medituje, vydává u toho takový neutrální zvuk. Správně by se asi žádný zvuk vydávat neměl, ale z televize už známe svý. Mě napadl mnich meditující se slovem mbank. Tedy konkrétněji (em)mmmmmmmmmbank 🙂
Zpracování
Nápad nelze rovnou vytvořit, musí se trošku vylepšit, aby měl to správné vyznění. V tomto případě chytlaví voice-over na konci, který tu pointu vysvětlí. Takže jsem vymyslel: "Meditujte s mBank a nemějte starosti s poplatky".
"Herec" Kryšpín
Naštěstí v téhle reklamě není potřeba moc hrát, takže jsem se do té role vžil já sám. Pokoj máme krásně vymalovanej na modro. Nebyl teda problém si pohrát s efekty a v programu přidat krásné, exotické pozadí. Hodil jsem tedy přes sebe oranžové (mnišské) povlečení na postel a natočil jsem se při meditování.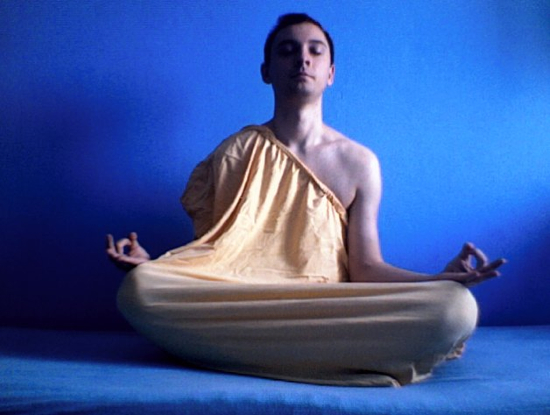 Postprodukce
Efekty v programu byli trošku těžší než jsem očekával. Jelikož jsem neměl profesionální modré plátno, ale jen zeď na kterou jsem vrhal stín. Musel jsem efekt Blue screen použít několikrát na různý odstín modré. A zároveň si dávat pozor, abych neprosvítal s pozadím i já. To se nakonec podařilo, ale stejně je tam vidět několik chyb.
Voice-over
Finální voice over mi nejprve namluvila mamka. Myslel jsem, že ženský hlas tomu trošku napomůže, ale vůbec do toho nezapadal. Přemluvil jsem tedy bráchu a ten odvedl skvělou práci. Po několika pokusech se nám podařilo zachytit ten správný tón a rytmus.
Final cut
Drobné úpravy nakonec a video stačilo vyexportovat. Jako obrazová část i jako zvuková. Protože jsem si uvědomil, že samotný zvuk lze použít do soutěže v kategorii rádiový spot. Tím jsem zabil dvě mouchy jednou ranou a vy finální díla mužete vidět tady a tady. A samozřejmě pro mě hlasovat pěti hvězdičkama a tím mi pomoci k vítězství. Děkuji všem!