Jak začít? Dopoledne jsem šel na novinářskou projekci filmu Public Enemies, ze které jsem odcházel nadšen, ale s odstupem času se mi to v hlavě rozleželo a na těch původních pět hvězdiček to nevypadá. Přesto za svým komentářem si stojím… Zatím. Pak už jsem si dal rychlý oběd, sbalil poslední věci do tašky a vyrazil do Silencia, kde na mě čekal Matuš a Petra. Počkali ještě na kameru a vyrazili do Karlových Varů.
Počasí se během cesty změnilo z šíleného vedra na příjemně slunečný den až po strašný slejvák. Klasika. Jako každý rok. V tom počasí šlape jako hodinky. Jinak cesta uběhla v poklidu a dorazili jsme k Thermálu. Kde na nás už čekal Karel a vyzvedli si staffové kartičky a lístky k ubytování. Kartičky máme bez jakýchkoliv pravomocí, takže se zatím vůbec nikam nedostanem. Ale to prý Karel napraví… snad. Fotku použili z minulého ročníku, takže aspoň vidím, jak jsem vypadal hrozně.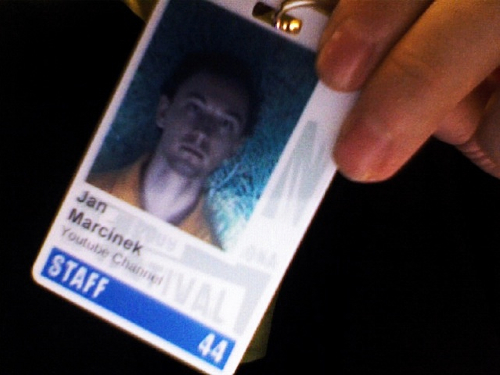 Bydlíme na třílůžkovém pokoji v penzionu Romania, který je přímo přes řeku naproti Thermalu. Minulé ubytování bylo lepší a prostornější. Jsme v tom nejvyšším patře a výhled máme na druhou stranu než by jsme chtěli. Vůbec nevidíme na Thermal a dění kolem. Ale kvůli tomu tady nejsme, že?
V Thermalu už to jede na plné obrátky a všechno se opravuje, předělává, staví, lepí, elektrizuje, stěhuje atd… Pracovnu máme na stejném místě jako minule. Tentokrát celou pro sebe, ale je tam s náma nějaký server nebo klimatizace. Je to za dveřma, velký a dělá to kravál. Začátek teda nevypadá slibně.
Mno a právě teď sedím v Thermalu, chytám wi-fi signál a píšu vám článek. Večer už asi nic v plánu nebude. A pokud jo, tak to sepíšu do zítřejšího článku. Zatím ciao.