Dnešní den jsem měl ve znamení Ivana Zachariáše. Potkal jsem ho v Guset service, ale neměl jsem nic, na co by se mi mohl podepsat. Viděl jsem jeho dvě nové znělky. Jedna s Menzelem typicky česká a druhá s Garciou, vtipně americká. Celkově za den by se nestalo nic zvláštního, kdybych nešel na dva filmy. Jedním z nich byla světová premiéra filmu Dobře placená procházka Miloše Formana. Úvodní řeč Kaisera s Lábusem byla výborná a pobavila všechny (O to víc se potom bavili diváci u jejich rolí ve filmu. Pokud se to točilo, tak by to byl skvělý bonus na DVD). V sále jsem opět potkal Ivana Zachariáše a opět neměl nic, co by mi mohl podepsat. Našli jsme si dvě výborná místa a pět minut před zahájením si před nás začal sedat Bartoška a celý štáb Dobře placené procházky. Seděli jsme tedy za Bartoškou dokud nás z místa nevyhodil někdo, kdo měl lístky. Přesedli jsme si tedy o deset sedadel dál a před náma seděl samotný Miloš Forman. 🙂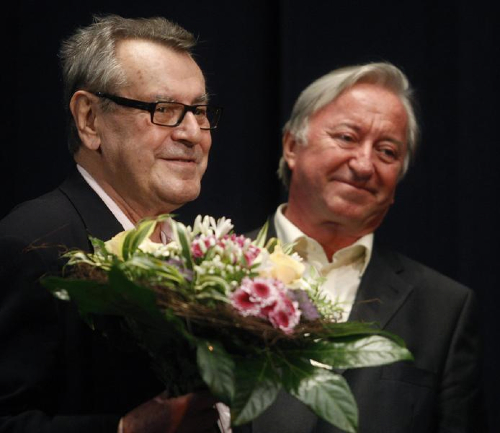 Jak už jsem se zmínil, tak před filmem byla skvělá úvodní řeč. Poté se v sále zhaslo a už jsem si užíval jazzovou operu v Národním divadle.
Po filmu zpět k práci a večer jsem šel na Chan-wook Parkův film Žízeň, ze kterého jsem měl divnej pocit. Na jednu stranu jsem se bavil a na druhou stranu jsem si říkal WTF. Před koncem jsem odešel ještě něco dostříhal a opět se ve dvě v noci vrátil na hotel, kde jsem únavou usnul.