Tvůrci seriálu Six Feet Under (Odpočívej v pokoji), chtěli mít znělku, která by diváka každý týden nenudila a bavila ho po celou dobu. Každého zaujme hned na první pohled. Jak vůbec úvodní titulky, které získaly ocenění Emmy a pod jejich výrobou je podepsán mistr v oboru Danny Yount, vznikly?

Nejdříve se podívejte na výsledek práce, pak si můžete přečíst rozbor znělky.
Už samotný začátek vzniku titulků k tomuto seriálu je jedinečný. Začalo se nejdřív oslovením hudebního skladatele Thomase Newmana, který třeba stojí za hudbou k filmu American Beauty. Thomas Newman měl za úkol vytvořit 90ti vteřinovou a jednoduchou znělku. Odvedl brilantní práci.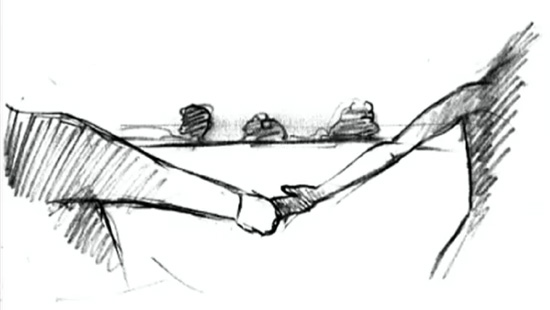 Pak přišla na řadu společnost Digital Kitchen se svými návrhy a storyboardy. Hlavní motiv se stromem a rukama byl už od začátku vzniku. Hodně elegantní, filmový a jiný než ostatní televizní znělky.

Základem bylo odvyprávět mini-příběh toho, co se s tělem děje, než bude v rakvi uloženo do země. K tomu bylo potřeba vytvořit několik originálních záběrů. Danny Yount měl na tohle štěstí. Nalezl několik inspirativních fotografií. Zároveň z toho jde strach, ale taky krása.

Není nic dokonalejšího než, když obraz ladí spolu s hudbou. Ukázkou může být právě záběr na jedoucí vozík s tělem. Hudba spolupracuje spolu s točícími se kolečky. Dokonalá syntéza.

Záběr na fotografii s tajuplnou ženou je naznačením něčeho nevyřčeného. Sice je to něco, co tak trošku neladí se znělkou, ale přesto každý má pocit, že to je na správném místě.

Ve znělce je mnoho nádherných záběrů, ale jen jeden z nich je jedinečný. Dvě oddělující se ruce ve zpomaleném záběru. Spolu s hudbou je to srdcervoucí záběr, protože když se jednou něco takového stane, už se to nedá vzít zpět.

Symbolem smrti je také vrána. A zaběr s ní vyvolá ten správný efekt. Zajímavé je, že použití vran černých ve filmech pro komerční účely je zakázáno, tak se použila vrána s bílým břichem natřeným na černo.

Logem seriálu se stal strom a tak se musel najít vhodný kandidát. Smyslem bylo najít samostatný strom na horizontu. Jenže to se ukázalo jako nesnadný úkol. Všude byly stromy, ale nikdy ne samostatný listnatý strom (natáčení mělo probíhat na konci zimy). Nakonec se někdo chtěl zbavit dokonalého stromu. Přes kontakty ho koupili za 400 dolarů a zasadili na vyhlídlé planině, aby se mohl záběr natočit.

Poslední co chybělo do úvodní znělky byly květiny. Záběr na vadnoucí květiny, které se pořídili časosběrem fotoaparátem během deseti hodin. Bohužel nevadly podle představ a tak se v postprodukci upravovaly. Konkrétně šlo o přechod do hnědé barvy.
Jak se vám líbí? Máte nějou svou oblíbenou znělku?