Možná jste někdy slyšeli o desetiminutovém filmu, kde jede Ferrari skrz Paříž a velkou rychlostí se line uličkami až dojede do cíle, kde… Ne! Neprozradím vám pointu, i když je primitivní. Jak vůbec tento kultovní snímek vznikl?

Jednoho srpnového rána roku 1978 se v pět hodin a třicet minut probouzí Paříž a Claude Lelouch se rozhodl udělat své šílené mistrovské dílo. Tento 10ti minutový filmeček slavil úspěch na velkém plátně, získal status kultovního díla a nedávno byl nově remástrován na DVD. Pro ty, kteří film neviděli to může být nudný článek, ale to lze napravit tím, že se na film rovnou podíváte:
"film na který se díváte byl vytvořen bez speciálních efektů"

Claude Lelouch byl zatčen hned po prvním veřejném promítání filmu, ale brzo byl propuštěn. Policii totiž řekl, že on nebyl řidičem toho auta… a tím začaly fámy. Podle nich Lelouch najal profesionálního řidiče formule 1, padla jména jako Jacky Ickx, Jacques Laffitte a René Arnoux. Nic z toho však nebyla pravda! Lelouch se během rozhovoru v roce 2006 přiznal, že auto řídil on sám.
Další věci spatřili světlo světa hned poté. Použité auto ve filmu nebylo Ferrari 275GTB, jak si dlouho všichni mysleli. Ve skutečnosti byl použit Mercedes Benz 450SEL 6.9. Důvod je jednoduchý… Tohle auto má jen tři rychlosti, ale ve skutečnosti je slyšet pět rychlostí. Ale stále mnoho lidí se domnívá, že byl nahrán zvuk motoru 275GTB a ten byl nahrazen přes originál. Ale naštěstí existuje fotografie, která všechny tyto fámy popírá.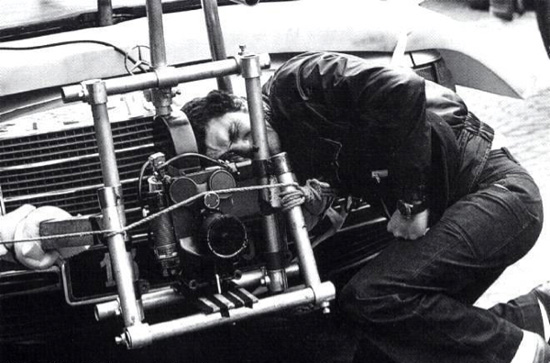 Také se stále diskutuje o rychlosti, kterou Lelouch jel. S kamerou namontovanou nízko je samozřejmé, že divákovi to připadá hodně rychlé. Lelouch sám sdělil, že nejvyšší rychlost se pohybovala někde mezi 230 a 240 km/h, zatímco podle nezávislých testů se auto nepohybovalo vyšší rychlostí než 140 km/h. Jiní zase vypočítali nejvyšší naměřenou rychlost okolo 220 km/h. Nelze říci, který z těchto údajů je skutečný.
Pokud se trochu vyznáte v Paříži, tak si můžete sami vyzkoušet cestu, kterou Lelouch projel.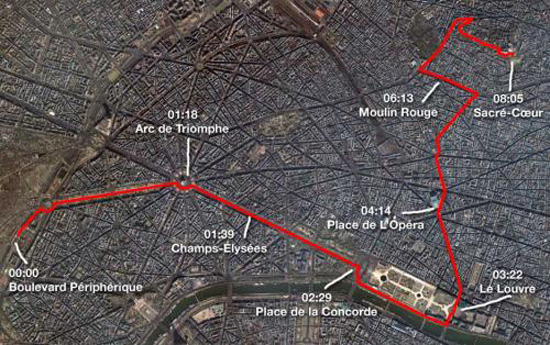 Že bych natočil něco podobného i v Praze?