Podzim může prezentovat nový a zajímavý soubor podmínek pro fotografování. Začíná období kratších dnů, nízké teploty a zataženého počasí. Ale to neznamená, že není vhodná doba na fotografování. Spíš to znamená, že musíme lépe využít světlo, které se nám nabízí.
Jemné světlo
Všichni víme, nebo by jsme měli vědět, že světlo je téměř nejdůležitější částí fotografie. Takže když máme zatažené podzimní počasí, představuje to příjemné tlumené světlo, které je skvělé pro portrét. S přidáním jemného záblesku docílíte portréty se skvělým osvětlením a s měkkými stíny. TIP: Používáte-li extérní silnější blesk, tak jej radši vypněte. Zamezíte tak přepálení pleti.
Dramatické barvy
Na podzim nám Matka Příroda nabízí neustále se měnící paletu teplých barev na hraní. Krajina se postupně přemění ze zelené na zlatavě hnědou, vytváří tak dramatické pozadí pro každou krajinu, kterou vyfotíte. Hned jak Vám vhodné barvy příjdou, tak se je snažte zachytit, protože to netrvá věčně a holé stromy s už s hnědým listím nevypadají ani z poloviny tak dobře.
Mlhavé ráno
Brzké vstávání nemá nikdo moc v lásce, natož pak na podzim, kdy svítá později. Ale ráno a večer je nejlepší doba pro zachycení atmosféry s mlhou. Když přidáte několik siluet stromů a v pozadí bude slunce osvětlovat vše v teplých barvách, máte klasickou podzimní fotografii. Tyto scény můžou vytvářet výbornou náladovou krajinu, jen nezapomeňte upravit expozici odpovídajícím způsobem, pokud chcete zachytit siluety.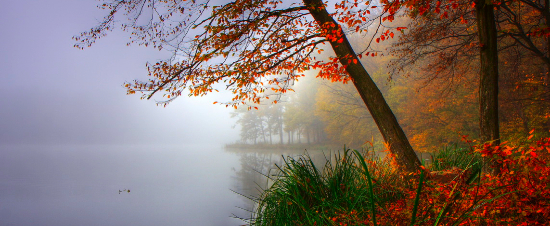 Změny v období přináší nejen změny v krajině, ale i změny v přístupu k fotorafování. Podzim je pravděpodobně jedním z nejlepších způsobů, jak se s tím vypořádat. Barvy, světlo a atmosféra vytvářejí ty nejlepší podmínky pro fotografy. Je to nejlepší způsob fotografování předtím, než na dveře zaťuká zima…