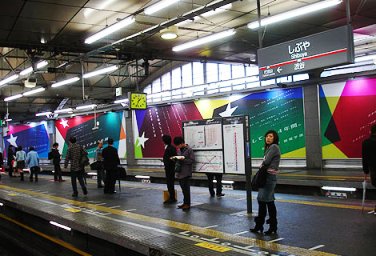 Shibuya jako stanice: zde je kampaÅ? na Meiseikou Univerzitu
 
1. Vytvořte si vlastní stanici
Výběr velmi rušné stanice jako je Shibuya by měla poskytnout pro začátek velkou pozornost. Zde objevíme velmi dekorativní reklamu Meiseijsé Univerzity, které zabírá celý prostor zdi této stanice. Má to funkci zkrášlení nástupiště pro cestující.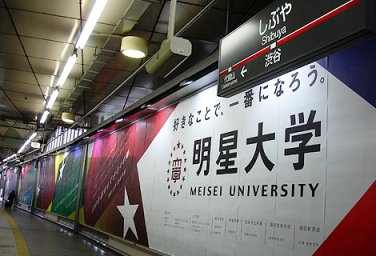 Billboard Meiseiké Univerzity na lince Shibuya - Toyoko je po celé délce stanice
2. Mega nálepky
V případě podlahy je reklamní prostor taky připraven k použití, zkuste umístit vaši reklamu jako velkou nálepku na zem. Reklama s několika hezkými barvami zkrášlí šedý beton na podlaze a každý si toho všimne.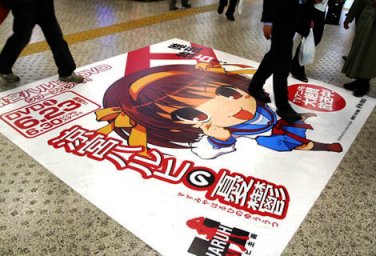 Obrovská nálepka na podlaze je reklamou na  vydání DVD filmu Haruhi
 
3. Využijte kampaÅ? s překvapením
 
Reklama "sladké plakátové překvapení" jsou vždycky velmi vyhledávané a atraktivní. Zde máme malý obrázkový příběh reklamy na nový Canon uvnitř stanice Shibuya (mezi Toyoko a JR Yamanote line – dobře se zorientujete), který nabízel malé balíčky zachycené na plakátu.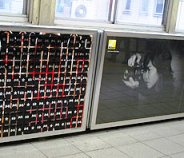 Na levém obrázku je práce na kampani. V pravo je reklama na Nikon. Někdo si musel říkat, že Nikon má velkou a krásnou reklamu.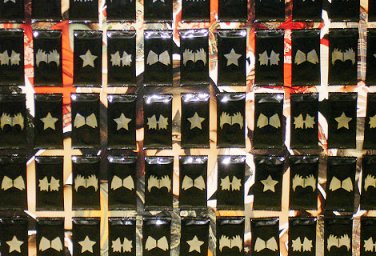 Zde je detail na vÅ¡echny malé balíčky umístěné před plakát, jeÅ¡tě než lidé začali reklamu rozebírat…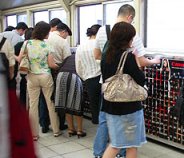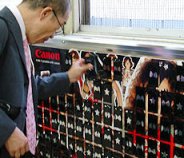 Po oficiálním otevření byla reklama zprísÅ¥upněna, lidé měli k ní přístup – a udělali to! Veselý dědeček si bere jeden z balíčků – jeden z mnoha.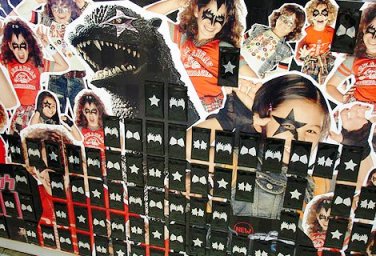 Po sekundách balíčky mizeli a plakát se začínal vykreslovat
 
Grafická úprava byla docela hnusná, musím se přiznat, že jsem byl docela zklamaný z obsahu skrytého uvnitř malého černého balíčku: malá boržurka o nové řadě fotoaparátů Canon v cela neodpovídajícím designu.
 
4. Sochy produktů
Vytvořte si vlastní sochu vašeho produktu! Dobře jsem se zasmál, když jsem našel všechny tyto převelké láhve od Ucon-čaje v Shinjuku ozdobující sloupy.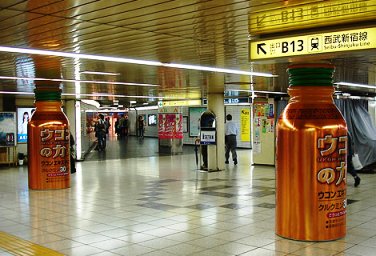 Obrovská láhev čaje Ucon (Tumeric) uvnitř staniceShinjuku station která vypadá sloup držící strop
 
5. Použijte co se dá
Jestli jsou všechna reklamní místa obsazená, koukněte se znova!
 
Krátké reklamní sdělení na turniketech
 
Stačí si všimnout přístrojů, kde se cvakají lístky na některých stanicích. Hned vedle, kam se dávají karty (lístky) je reklama na televizní magazín TV Japan, které si určitě všimnete, ale vypadá to jako nějaké upozornění na přístroji.
 
6. Info-madlo
Velice elegantní a často osvěžující řešení je dekorace na pohyblivých madlech u eskalátoru. Firma Aap! nabízí několik řešeních pro tyto alternativní reklamy. (K instalaci stačila pouchá hodina!)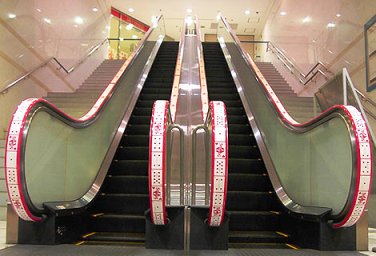 Tyto madla jsou jednoduše ozdobeny. Obrázek z Obchodního centra Lumine v Tokiu. (Photo © Aap!)
 
Aap! instalovalo zajímavé reklamní madlo uvnitř stanice Nogizaka v Tokiu: tyto madla obsahovali seznam všech druhů krátkých zpráv obsahující informace o obchodech, restauracích a atrakcí, které se nacházeli poblíž. Lidé si jednoduše mohli naskenovat pomocí QR-kódu zprávu s více informacemi o určitém místě do svého mobilu, zatímco jste pomalu se zprávou jeli po ekalátoru.
 
Madla instalovaná v Nogizaka s krátkými informacemi o obchodech, restauracích, které se nacházejí poblíž. Naskenujte si QR kód vaším telefonem a získejte mapu s více informacemi o místě (Photo © Aap!)
 
7. Metro!
Vnitřek Metra nebo vnějÅ¡ek metra jsou velmi populární v Tokiu. Jestli jednou pojedete jedním z těchto reklamních vagónů, pochopíte proč lidé jsou ochotni tolik utrácet. Zde je názorná ukázka minimální a "ukliďnující" IKEA vagón. První věc kterou ucítíte, když vstoupíte do vagónu je pocit neobvyklého klidu…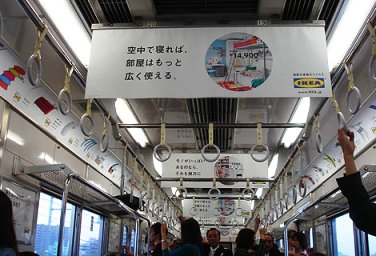 Velmi minimální barvy na bílém plakátě od Ikei.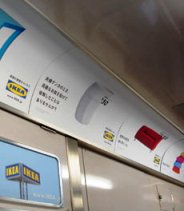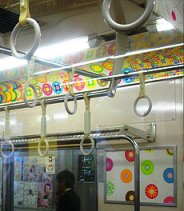 Máte pocit, že se nacházíte v pojízdném IKEA katalogu, což byl asi záměr. Ostatní vagóny mají barevné IKEA vzory.
 
 
Dokonce venku mají vkaz: Nech se inspirovat barvami!
 
8. Je to skutečné!
Zatím každý tráví plno času v metru, malé překvapení vždycky příjde! Vložení několika "skutečných věcí" přímo na plakát vždycky působí jako trik! Zde je malý výběr.
 
Reklama na Prigles uvnitř metra, kde létají dva pringles do talíře s polévkou. Plakát vedle je se skutečnými Prigles na cestě do polívky.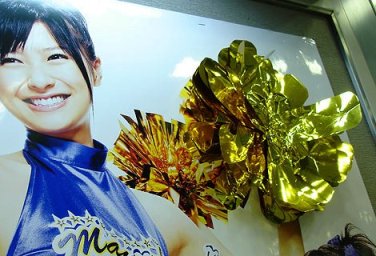 Oznámení na televizní  drama Dandori se â€?skutečnými komponenty': třpitící se ponpony umístěné na plakát s roztleskávačkami.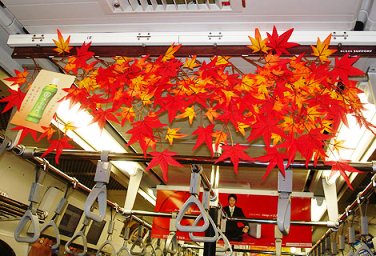 Hezky aranžované listí na plakátu propagující Zelený čaj.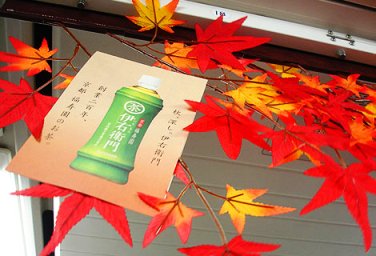 Detail na plastické podzimní listí zavěšené na strop vagónu.
 
9. Držákové triky
Jen plakáty nepůsobí "realisticky". Držáky uvnitř vagónů patří mezi populární a zábavný druh, jak na sebe upozornit. Zde je náš favorit: kravata, která vám slibuje více peněz… dobře! je to reklama na společnost zajiÅ¡Å¥ující půjčky…
 
Zkrášlený držák v metru, který je reklamou na společnost půjčující peníze (foto: Maris Mezulis)
 
10. Filmový tunel
TřeÅ¡ničkou na závěr je zábavná reklama, kterou najdete uvnitř metra, což není přesný pojem, spíše uvnitř tunelu. Série obrázků je základem pro krátký film a jste to vy, kdo se v tomto případě pohybuje – pomocí metra. Instalováno na zeď v tunelu, pohybem metra a perfektního načasování světelného blikání mezi obrázky můžete z okna vagónu vidět 7 vteřinový film. Malé demo názorně ukáže, jak to vÅ¡echno pracuje.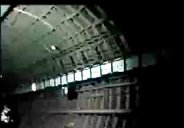 Obrázky byli umístěné uvnitř tunelu… … vedle sebe a každý jiný. (© Aap)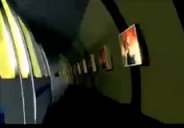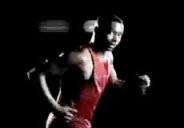 Pokud jste jeli metrem, senzor měří rychlost vlaku a světla obrázků se přizpůsobovala. Na pravo vidíte obrázek z filmu na Adidas (© Aap!)
Zdroj: pingmag