Rozhodl jsem se udělat pro nejoblíbenější články na mém blogu vlastní kategorii. Nazval jsem ji Chytrá loga a zařadil do ní předchozí "logo" články. Další změnou je, že každý článek bude obsahovat jedno logo (někdy podle druhu více). Takže očekávejte, že články o logách se budou objevovat častěji než doposud. Tak s chutí do toho.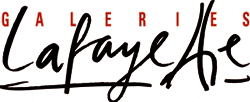 Začnu otázkou: Kde se s tímto logem můžeme setkat? Že nevíte? Pozoroně se podívejte. Lafayette zní francouzsky. Správně ve francii, ale kde přesně? Znáte jen Paříž? I to je správně, ale přesnější pozici? Ulice už neznáte? Nevadí, poblíž čeho? Nápověda: Písmena "t" vám napoví. Bingo!
Proslulý obchodní dům Galeries Lafayette se nachází poblíž Eiffelovy věže a ve svém logu to dala najevo. Já osobně jsem tam viděl původně "A" nikoliv "tt".
A bonus na závěr, pokud často brouzdáte na internetu. Určitě jste si zafixovali některé známější loga. Vyzkoušejte vaši fotografickou paměť pomocí hry Which is the real logo?.