Cestování autem mi začíná lézt krkem. Dnes jsme projeli přes 650 km. Z Bánskej Štiavnice jsme v sedm hodin ráno vyrazili do Košic, kde jsme vyzvedli tetu Mariku a jeli do Smilna. Smilno je malá vesnička u města Bardějov, kde jsme měli chatu. Ta se po úmrtí babičky prodala. Babička byla pohřbená k dědečkovy na Smilnském cintoríně (nezní to tak morbidně jako hřbitov), dali jsme tam květiny a jeli pozdravit staré známé. Potom nám dovolili prohlídnout si interiér naší bývalé chaty. Odvedli na ní kus práce, uvnitř je to změněný k nepoznání (fotky uvnitř jsem si nedovolil pořizovat).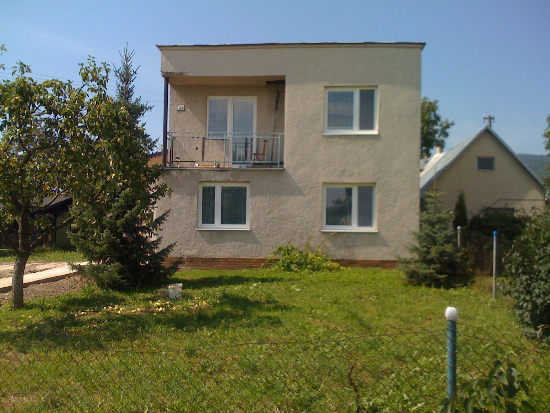 Ze Smilna jsme se vrátili zpět do Košic, kde nám Marika dala skvělou večeři a potom jsme vyrazili na cestu zpět. Táta si usmyslel, že pojedeme do Revůcej pozdravit jeho příbuzné. Takže dalších pár stovek kilometrů navíc. V autě jsem v tom vedru umíral. Byl obrovský hic. V Revůcej si rodiče pokecali s příbuznými a ochutnali jsme vodu z pramene (už si nevzpomenu na název). Nezdrželi jsme se dlouho a jeli už konečně do Banskej Štiavnice. Kam jsme dorazili ve 22:30 hodin. Auto už nechci do pátku vidět!
Vtipně pořízená fotka. Můj iPhone se svým digitálním fotoaparátem neumí fotit za jízdy z auta. Značka byla normálně rovná a v pohodě, takže to vypadá jako by jsme ji svalili rychlostí 🙂
Cestou jsme viděli pár hradů a zámků a nádhernou hornatou krajinu, ale nic z blízka. Takže report z historie dnes nebude. Jen se zmíním, že na kraji města Krásnohorského podhradí je k vidění obrovský psí hrob, který udělal pro svého psa udělat jeho páníček – majitel hradu. Hrobka je velká jako takový měnší rodinný domek.