Dnes jsem se v klidu vyspal a vstal až kolem desátý. Před obědem jsme se šli podívat do kostela sv. Katariny Alexandrijskej, který je hned vedle našeho baráku. Má velmi bohatou historii. Je to jednolodní pozdně gotický kostel s pěti kapličkami po stranách. Nejzajímavější částí je freska Posledního soudu, z období okolo roku 1500, která je svým rozsahem největší na Slovensku.
Poté jsem si šel koupit DVD filmu Mechanik, kde hraje v hlavní roli Christian Bale. Dále jsem musel vypláznout dalších 150Sk za kupón na internet a šel na oběd. Po obědě jsme vyrazili autem (!) do Sliače. Musel jsem porušit pravidlo, protože je to daleko (20km). Sliač je lázeňské město, kde jsme z pěti pramenů našli jen jeden. Možná bych měl říct naštěstí, protože když jsme šli hledat do místního lesíka houby, tak jsme tam místo nich spíš našli h*vna s toaletním papírem. Asi to má příliš dobrý vliv na trávení. Za zmínku zde stojí jen památník na počest padlých československých letců za druhé světové války.
Památník znázorňuje padlé letadlo. A to tak trošku souvisí s tím nejzajímavějším co jsem tady zažil. Poblíž Sliače je letiště, kde cvičí stíhači. Všude byl řev stíhaček, dělali loopy, vruty apod. A hlavně lítali strašně nízko, že jsem mohl v klidu přešíst nápisy na letounu. Nádherný zážitek. Cestou do dalších lázní Sklené Teplice jsem si pořídil fotku.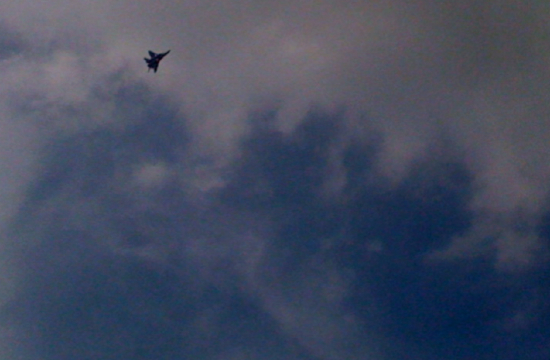 Ve Sklených Teplicích to bylo živější než ve Sliači. Sice menší, ale skvělá atmosféra. Narazili jsme i tady jen na jeden pramen, který měl docela vysokou teplotu, tak jsme dali radši přednost chlazenému pivu. Zdejší lázně jsou spíš o léčebných domech. Jeden z nich se jmenuje Born, pojmenovaný po Ignáci Antonu Bornovi (1742-1791), který byl mineralogem a chemikem světového jména. Byl to objevitel způsobu získávání drahých kamenů nepřímou amalgamácií. Druhý dům je pojmenovaný po Karlu Otto Mollerovi (1670-1747), který byl známý jako "Uherský Hipokratés", první zdejší stálý lékař. Autor prvního fyzikálního rozboru sklenoteplických minerálních vod.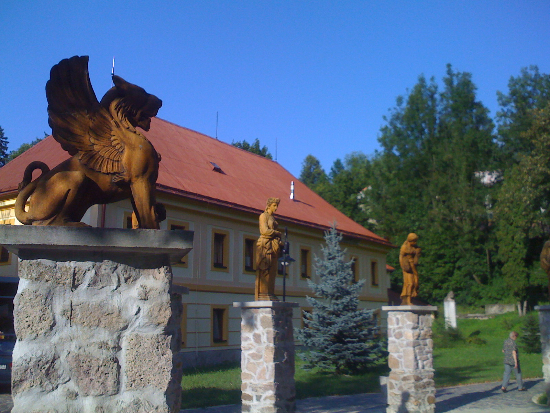 Potom už jsme se vrátili zpět do Banskej Štiavnice a udělali si večerní program v podobě navštívení místních restaurací a hospod.