Je tomu přesně jedenáct měsíců, co jsem byl naposled na velkém koncertu mých snů kapely Coldplay. Letošní nezapomenutelný zážitek z koncertu bude patřit kapele Radiohead.
Tentokrát jsem nikde neseděl a koupil si lístek do první zóny. Hned pod pódium. Pro jistotu už jsem tam šel na pátou hodinu a kupodivu jsem si našel ještě dobrý flek, ze kterého jsem se už nehnul a vytančil jsem díru do země 🙂
Po šesté hodině začali hrát předskokani. Elektronická kapela Moderat, kterou jsem si pro jistotu naposlouchal předem a věděl tak, do čeho jdu. Užil jsem si 45 minut nejlepšího výběru jejich songů.
Pak už přišlo jen čekání. Hodinové čekání, než se upraví pódium pro zlatý hřeb večera. Kolem osmé to začalo a já byl po celou dobu v eufórii. U tří pomalých songů jsem měl zavřené oči a vychutnával si zvukové vlny cestující do mých uší. Zbytek jsem absolutně protančil, proskákal apod. Díky tomu se kolem mě vytvořila jakási aura, kterou mi nikdo nenarušoval a já měl prostor pro svůj pohyb. Přestože jsem byl v kotli, tak diváci spíš stáli a jen se pohybovali do rytmu. To jsou Češi tak vážní? Enjoy it!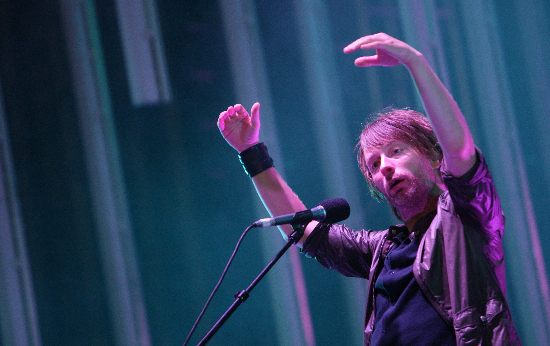 Vyskákali a vyřvali jsme si dva přídavky. Zahráli nám tedy 25 songů. Bohužel moji oblíbenou House of Cards vynechali. Ale v tu chvíli mi to nějak nevadilo. Jediné co mi vadilo to velké množství kuřáků. A každý třetí tam smrděl hulením. Asi je fakt, že zkouřenej člověk víc vnímá tu vizuální show, kterou měli Radiohead skvěle udělanou. Ale byla skromnější než Coldplay. Jak jsem se vrátil domů, tak jsem v zadní kapse od kalhot našel papírek se vzkazem: "Du tanzt schön!". Přemýšlím, kterou z těch čtyř slečen za mnou, to mohlo napadnout…
A na závěr dávám pražský tracklist:
1. 15 Step
2. There There
3. Arpeggi
4. All I Need
5. Lucky
6. Nude
7. Morning
8. 2+2=5
9. A Wolf At The Door
10. Videotape
11. (Nice Dream)
12. Gloaming
13. Reckoner
14. Exit Music
15. Bangers and Mash
16. Bodysnatchers
17. Idioteque
Encore:
18. Pyramid Song
19. These Are My Twisted Words
20. Airbag
21. The National Anthem
Encore 2:
22. How To Disappear Completely
23. The Bends
24. True Love Waits
25. Everything In Its Right Place